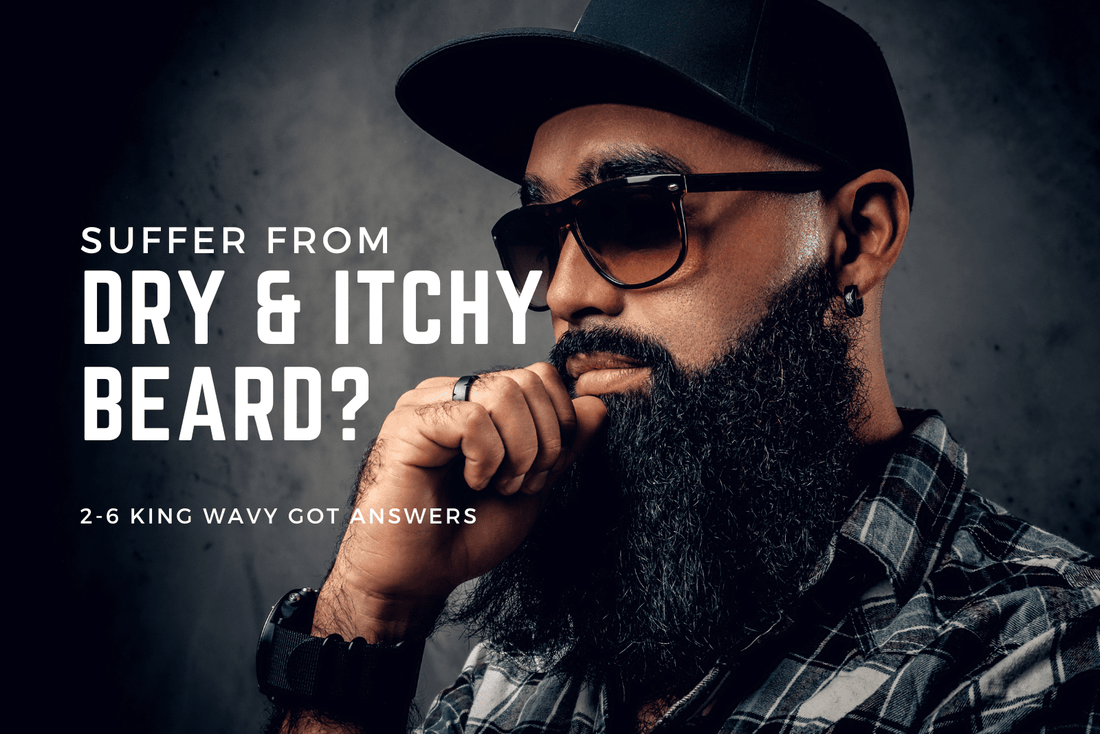 Say Goodbye to Dry, Itchy Beards with These Natural Products
Are you looking for a solution to get rid of an itchy and dry beard? If so, then you've come to the right place! 2-6 King Wavy natural products are designed to help you get rid of dry and itchy beards. These items are made with natural ingredients that will not only help to eliminate the dryness and itchiness in your beard but they will also help to keep it looking and feeling good. Here, we'll examine how the 2-6 King Wavy Beard products can help you get rid of dry and itchy beards.
WHAT CAUSES BEARD ITCH?
The truth is that there are numerous possible explanations for why your beard might be itchy. Itching and irritation can be caused by any of these factors, and combining them just makes things worse for your beard. Some of the most common causes of itchy beards are as follows:

Problems with dryness, ingrown hairs, and low-quality shaving and grooming aids
Zits, and more...

These are, as you can see, not beard-specific difficulties at all. This is why even little shifts often bring about noticeable effects. Seasonal fluctuations, for instance, are linked to skin dryness, allergy and rash outbreaks, and a whole host of other problems that might be related to itchy beards.

The good news is that, while annoying and potentially problematic for your beard, none of these are intractable. The question then becomes, how do we fix or get rid of these problems forever in our furry pals (no, not your dog or cat)? Okay, let's get started.
STOPPING BEARD ITCHINESS
You'll need to treat your itchy beard differently depending on the root cause. Most of these problems, in fact, have simple solutions that can be achieved by regular grooming and the use of high-quality products. So, without further ado, let's begin...

Whether your problem is dry skin, acne, or inflammation around your beard, there is a straightforward method to eliminate it. You may even roll your eyes at how easy it is to figure out, since...you probably figured it out instantly.
The solution is as simple as 1,2,3.

1. Wash your face and beard thoroughly. (making sure to exfoliate the skin underneath your beard is the critical step here)
2. Dry your beard.
3. Apply 2-6 King Wavy Beard Oil
Apply 2-6 King Wavy Beard Balm after beard oil (optional).
This is the part where the majority of men go wrong. (Showering is NOT the same as face washing.) Only a select few men actually exfoliate and scrape down to the skin behind their beards every time they shower.

If you think that's easy, you're right. Even I had problems with dryness and itching in my beard before I started using these products on a daily basis and giving my face a good scrub. This is why it succeeds:

By removing the natural oils and dead skin cells that clog your pores with regular washing and exfoliation, and then replacing them with safe, high-quality beard and skin oils, you may restore your skin's moisture without aggravating the situation. The long-term effects of this are improved skin texture (dryness, flakiness, and maybe acne) and clearer skin.

Remember that this process does not happen instantly. That's why routines tend to be the focus of grooming recommendations.

People may wonder, "But what if I use beard oil consistently and it doesn't work?"

Let me give you a few things to think about. You need to be sure that your beard oil doesn't irritate either your beard or your skin. Beard oil, then, needs to strike a balance between being thick enough to last and thin enough to absorb rapidly. Many factors contribute to this result.

If you aren't washing and exfoliating your face regularly, using a thick beard oil might cause a buildup of dead skin cells.

Too little 2-6 King Wavy Beard Oil will not keep your beard hydrated for as long as you'll need it to. As a finishing touch, 2-6 King Wavy Beard Balm is the frosting on the cake, providing less immediate hydration (than beard oil) but providing much longer-lasting hydration and smoothness to your beard and skin all day long.
BEARD PRODUCTS THAT FIX BEARD ITCH
You can't have a great beard without some great beard products. Actually, that's all you need.

For the same reasons we just mentioned, a premium beard oil and beard balm should form the basis of every beardsman's maintenance routine. They're beneficial in a wide range of ways and cheap enough to use in almost every beard situation.

2-6 KING WAVY BEARD OIL
Here are a few things to keep in mind while shopping for beard oil.

Viscosity Level: Acne issues due to excess thickness. Insufficient thickness equals dehydration. You need a beard oil that doesn't clog your pores and lasts all day. (and it helps if it smells pleasant, too!)
Natural Substances: The key to making a nice beard oil is simply using high-quality natural oils and other ingredients. Those that use preservatives or other substances with strange names aren't doing it right.

Non-Irritating To The Skin. Carrying on from the last section, your beard oil should be skin- and beard-friendly. This is merely for peace of mind that your beard and skin care products won't react negatively with one another.
2-6 KING WAVY BEARD BALM
Now, here are the qualities I seek for in a beard balm, my go-to beard product.

Beard balm not only keeps facial hair moisturized for days at a time, but it also can be used to control unruly facial hair. Consider using a remedy that treats both conditions to give oneself more flexibility and management.

Organic Ingredients: Beard balm can be created from the same oils and butters as beard oil, but it also typically includes additional butters and waxes, such as those derived from shea and bees, to provide longer-lasting hydration and a more substantial feel.

Convenient for Use With Beard Oil: The truth is that not all beard oils and balms combine nicely. It's challenging, but not impossible, to strike a happy medium between their respective qualities. Look no further than 2-6 KING WAVY!
CONCLUSION
The aforementioned arguments may appear overly simplistic or obvious. However, most guys I've surveyed admit they don't maintain a consistent program of cleansing, exfoliating, and moisturizing their facial skin. These are the very minimums for maintaining a healthy beard, so it's no surprise that many men experience itching when growing their facial hair out.

Look no further than 2-6 King Wavy Beard Kit range for a fantastic blend of beard oil and beard balm. Our beard care products are well-known for their hypoallergenic, organic, eco-friendly, and universal compatibility. They complement one another, are healthy for your beard and skin, and will help you feel better and get rid of your beard itch!

To choose the best product for your beard, 👇🏾👇🏾👇🏾👇🏾👇🏾👇🏾👇🏾👇🏾👇🏾👇🏾👇🏾